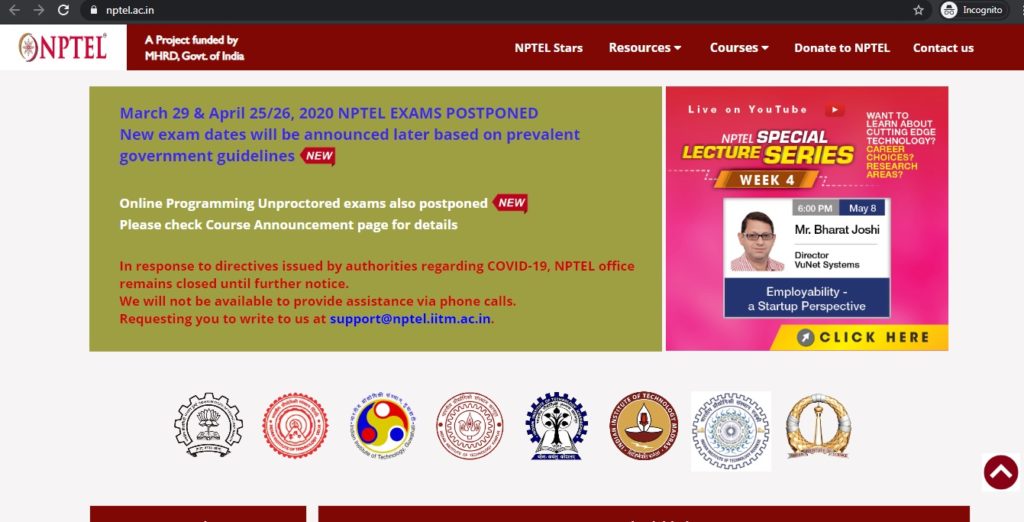 SWAYAM (NPTEL)
In the wake of COVID-19 there is a huge increase in demand for online learning. One such initiatives is Swayam by NPTEL. This is a program initiated by government of India. It has been started with the three basic principles of policy making which are equity, access and quality.
As, this is a government website all the major government institutes take part in it. This is very gainful for all the people. No matter your age. If you are willing to learn then this is for you. Let's see what are the features that make this unique and more useful than other remote learning tools. this is available as an app in mobile and tabs.
Website : https://nptel.ac.in
Main features of SWAYAM (NPTEL):
Completely free
This app is completely free. No restrictions on courses you can join. No restrictions on courses you can register and learn. Though you need to pay one thousand for certification exam. You need to pay this so you are eligible for writing exam. Once you clear the exam you will get your money back. If you see technically it is not completely free whereas practically it is.
Various courses
This app contains numerous courses which cover a wide range of skills. This has courses from artificial intelligence to psychology. This can be even used by students as it gives a lot of conceptual clarity on the topic you want to learn. This even have a division of beginner, intermediate and expert categories.
Eminent scholars
This have scholars from eminent institutions like IIT Bombay, IIT Madras. 
We know that each institute is famous for one subject or category.  If the student aims to study Economics, he tries for university of Hyderabad but if he wants to study History, he chooses Delhi university. Likewise, everyone wants to learn in the top institute. 
This will enable you to learn the skills which are famous in those institutes. This gives the course more value in society and a better and complete learning for you. 
Certification
Certificates hold a very important value in your life. This is the proof that you studied and are good at that skill. This certificate is unlike other remote learning tools because they are given from top most institutes in India. 
Different resources for learning
This will provide information to students in different ways. This include PPTs, video classes, PDFs this will help students in learning thoroughly and in a better way. Based on the need for the course the educator will make it in either of the forms. 
Interactive learning
This is an interactive learning. It is not just listening to video lectures or reading materials. This facilitate with a special window for queries. There will be clarification of doubt once you put your doubt on that window. This makes it unique remote learning application.
Flexible time
If you are learning skill and not applied certification you literally have life time to learn this skill. The average duration for a week is 3 hours for a course. So, it is not a big task to spend three hours per week. You can do this whenever you are free. This will enable you to learn a skill in your free time.
These are the things you need to know about SWAYAM. It is important to learn a skill in a perfect way than to learn a bunch of skills without having proper knowledge. So, you can learn one or two skills at a time which you feel are necessary and try to clear them with as high percentage as you can.