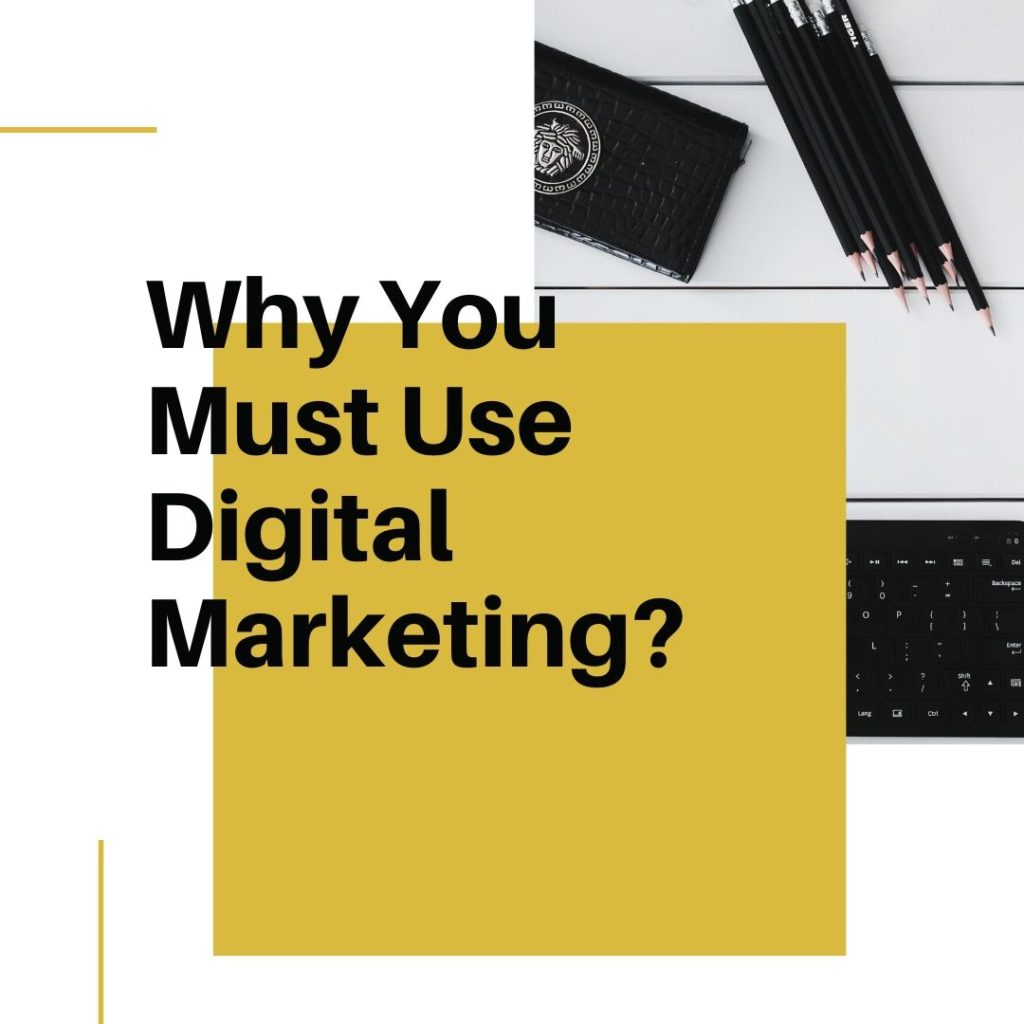 Why You Must Use Digital Marketing?
Promoting and marketing is the most important step in any company's strategy. This is because of the advent of the digital culture which enables any brand to showcase its "talents", through extensive selling, showcasing and presentation. The last few decades have seen a major paradigm shift from analogue to digital. Digital platforms and social media platforms are the most commonly used avenues to market products, brands or services.
A consolidated digital marketing plan uses several mediums to market said products or services. Mobile smartphones, television, OTT platforms, display advertising, etc. use the Internet as a major medium to perform such promotional activities.
A well-planned digital marketing strategy conveys your company's goals and beliefs clearly through carefully selected online media channels. Such channels are heavily relied on due to their extensive exposure and reach. Paid, earned and owned media can all support a common campaign around a particular line of business.
The main function of digital marketing is that it allows small businesses to compete in their segment with a constricted and consolidated budget which in turn helps them control their spending. It is a cost-effective and measurable way to reach out to a targeted audience and ensures brand loyalty through its unique marketing systems. Digital marketing allows a business to focus all control over where and how the money is spent.
In this age of digitization, the majority of the audiences consume content online and make purchase decisions on the basis of what appeals them the most. This allows them complete freedom as well as increases competition amongst businesses. Gathering eyeballs using the various digital marketing mediums is a fairly simple task, but selecting the right channel which compliments your brand is a fairly difficult but important task. The various digital marketing channels are:
1. Search Engine Optimization
This activity attempts to improve the search engine rank results.
2. Social Media Marketing 
Social networks like Facebook, Instagram, LinkedIn, Snapchat, MySpace as well as blogs and micro-blogging websites like Twitter, content communities like Flikr and YouTube are all forms of communication networks which help build brand image as well as communities. They allow users to interact with each other as well as companies.
3. Content Marketing 
Its main goal is to attract a clearly-defined audience by creating and distributing valuable, relevant and consistent content, to drive profitable consumer action.
4. Email Marketing
E-mail marketing is a great way to gain new customers or improve relationships with existing customers. Generally, customers subscribe to newsletters for updates on their products or services.
5. Pay per click 
It's a method of buying visits to your site rather than attempting to earn those visits. In this method, advertisers pay a fee each time one of their ads get clicked.
6. Display Advertising 
Ads get placed in websites, emails or other digital formats and instant messaging applications. These ads are generally graphics, texts, images, audio or interactive content which divert the consumers' attention for a brief moment and convince them to make a click.
Apart from the traditional approach, marketing is heavily dependent on the digital environment. The increased consumption of digital content on a daily basis is only a glimpse of the inevitable future replacement of all traditional forms of marketing.
Marketing strategies help businesses make projections that take into account facts and data as opposed to assumptions. In the event that business leaders have the tools and knowledge necessary to frame a marketing strategy, they can develop a plan of action that generates profits along with awareness. Having a well-developed marketing strategy is the professional approach that will help surpass the competition.
According to a survey by Internet and Mobile Association of India (IAMAI), India will have around 500 million internet users by June 2018. This will create a fascinating business opportunity to sell services and products to a growing population of technologically savvy users. Internet makes the interaction two-way and consumers get real time information and updates, directly from the companies or brands. This makes the marketing process fast and effective.
Digital marketing is any form of marketing implemented on digital channels, devices, or platforms to promote a service or brand. On the other hand, Internet marketing is a subset of digital marketing. It uses an active internet connection to make market the product or service. The growing number of smartphones and internet connections per smartphone has boosted the digital space to such an extent, that Artificial Intelligence and Voice Automated techniques will take over the marketing sphere in the very near future. This will improve reach and connectivity ensuring customized selling and promotion.