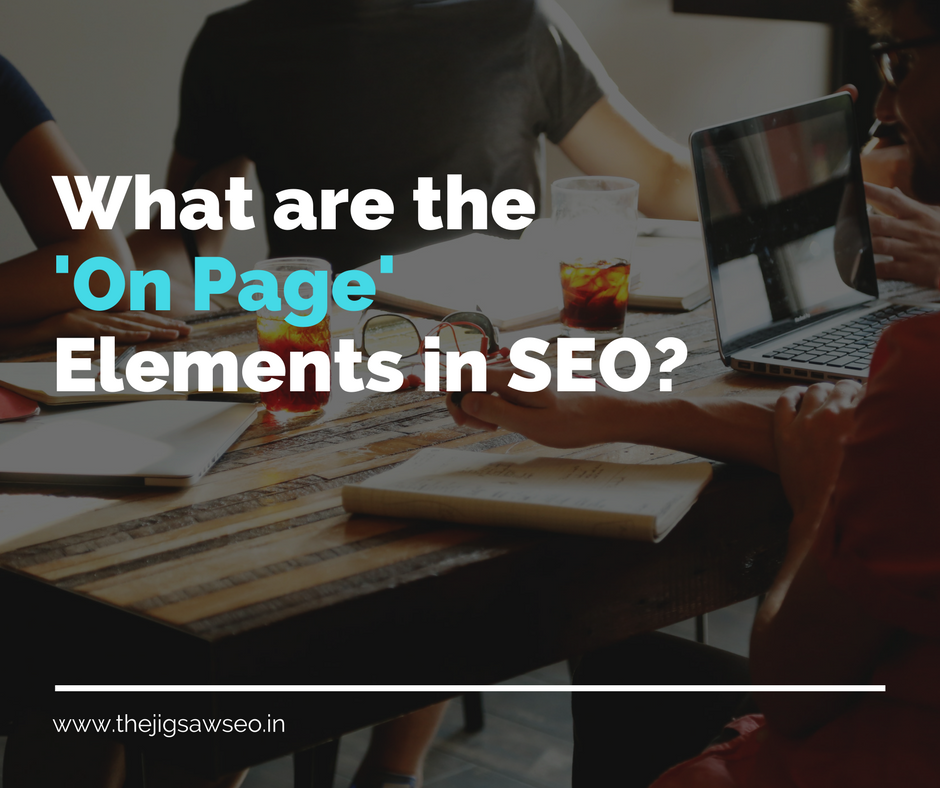 What are the 'On Page' Elements in SEO?
You're casually sitting on your sofa. You suddenly remember that you have an assignment to complete and submit on Monday. What do you do? You switch on your laptop, fire up Google and get to work. But, have you ever wondered how the search results come up so quickly? How the right websites are displayed to you at the top of the page? Well, the internet does have a lot of tricks up its sleeve to give you what you want as quick as possible.
One of those tricks is SEO and is quite the important one as well. SEO has become very important for internet-based companies and website owners, because at the end of the day, the better traffic they get, the higher money they earn. And, the best bet to getting the optimum traffic they need, is through SEO. This is why, SEO has become a religious practice for such individuals who rely on the internet and its traffic for their bread and butter. In this blog, I'll be talking about the on-page elements of SEO.
What is SEO?
Before we can start with the on-page elements of SEO, you need to know what SEO is in the first place. SEO stands for Search Engine Optimization and as I mentioned previously, it's a religious practice for the internet website owners and companies.
For those of you fumbling upon this term, SEO refers to Search Engine Optimization. In layman's terms, that means optimizing your website in such a way that it appears in such engines frequently. The more it appears, the more people will click on it, which basically is great news for you. So, it is important for you to know how to properly optimize your website for search engines. SEO usually includes the usage of proper keywords, which actually determine how optimized your website is, usage of keywords in the permalinks, making your website focused on a singular topic, and most importantly, writing like a human.
On-Page Elements of SEO
So, getting to the matter at hand, what are the on-page elements of search engine optimization?
On-page SEO is the practice of optimizing individual web pages in order to rank higher and earn more relevant traffic in search engines. On-page refers to both the content and HTML source code of a page that can be optimized, as opposed to off-page SEO which refers to links and other external signals. For those new to on-page SEO, we highly recommend reading Rand Fishkin's A Visual Guide to Keyword Targeting and On-Page SEO. On-page SEO has changed over the years, so it's important to keep up with the latest practices. Below are the latest post about on-page SEO from the Moz Blog, and we chosen our favorite resources to help you along your journey.
It takes into account all aspects of the webpage that, when added together, will improve your rankings in the search results. As Google becomes more sophisticated, one of the major factors influencing on-page optimization is relevance. How relevant is your page to the query? That's how you have to think when you're developing the page.
Think of these tasks as a benefit to your end user. You have about eight seconds to influence a visitor to interact with your website. The more interaction and engagement, plus the longer your users stay on the site, the better their experience.
If you put effort into these categories and strategies, you'll see a boost in traffic and a rise in your search presence. Once you understand everything that goes into your on-page SEO efforts, conduct an analysis of your site to see how the anatomy of your page is performing.
Meta Tags
Perhaps the most vital aspect of your on-page SEO efforts is the implementation of tags. Some are not as useful to SEO as they once were, but if written and utilized optimally, will improve your traffic.
Meta tags are used to provide search engines with information about your page. To achieve high rankings, it has to do with relevance and user satisfaction, but including custom meta tags will influence users and increase your click-through-rate.
Title Tags
There are multiple tags on your page. The most important is your title tag. The title is what users see in the search engines for both organic results and paid ads, and the words that appear at the top of each tab in your browser.
The title tag outlines what the page is about. When ranking web pages for particular queries, Google looks at the title tag and compares that to the rest of the content on the page.
If you're working in HTML, the code for the title tag looks like this:
<title>Everything You Need to Know About On-Page SEO</title>
However, the WordPress SEO plugin by Yoast allows you to create a custom title tag within the platform. Keep your title tags descriptive and short. Google recently increased the character limit for page titles to 70 characters before showing ellipses.
Best practice is to ensure you stay below the character limit so your titles display properly. You can use Snippet Optimizer to simulate how your title and meta description will appear in SERPs.
Use your title tag to stand out from your competitors, appealing to your visitors. Make sure all the pertinent information is included, including your keywords and location for local businesses.
While it's recommended to use your core keyword within the title, Google is shifting toward relevance and semantics in the results. Users aren't blindly clicking on the first result, reading the titles and descriptions to find the best answer to their query.
Meta Descriptions
The meta description conveys what users will find on the page. While not a direct ranking factor, search engines read the meta descriptions to determine the page's topic and the audience that will find value.
A well-written meta description can generate a competitive advantage in the search results, creating a higher click-through rate with a greater chance of conversions. While there is a possibility that Google will omit the custom description and pull an excerpt of the content on the page, it is recommended that you fill in the meta description for every page of your site.
The best way to check which pages are missing a meta description is to run your website through Screaming Frog's SEO Spider. It shows you every URL under your domain, the meta description, and its length.
Earlier in 2016, Google extended the length of descriptions for both desktop and mobile. For desktop, users will see up to 200 characters, while on mobile they'll be shown up to 172 characters. To appeal to users on both devices, keep your description between 165 and 175 characters.
Clearly outline what users will find on the page. Add your brand name and sprinkle in a keyword or two if they don't sound forced. Think about synonyms and other terms that will get the point across.
This is the first interaction many visitors have with your brand. Make it welcoming.Think of the meta description as your organic ad text. Tell users what's in it for them to click through to your site. Include an offer or call to action to entice a click. You'll also see some websites show multiple site links to direct users to the page they're looking for. My company, 1SEO.com Digital Agency, has multiple pages you can click on to find out more about the agency.
To find success and steady traffic to your site, it starts with your title and meta tags. Once you get the clicks, it's up to your user experience and quality content to maintain engagement.
Heading Tags
Your landing page or blog should include multiple heading tags, from the h1 down to a potential h6. The most important is the h1. You should never have more than one h1 tag on any page. Include multiple h2's or h3's as users scroll down the page. These are used as subheadings.
Use the headings to represent the different sections of the page. You'll notice the impact from both an SEO standpoint and a usability standpoint.