5 Simple Steps to Create a Facebook Retargeting Campaign
Log in to your Facebook Ads Manager and select Audiences
You'll find Audiences in the drop-down menu when you click on Business Manager at the top left-hand side of the screen.
Click on Create Audience and select Custom Audiences
Again, you'll find Create Audience at the top left on your screen. For retargeting, we're going to select Custom Audience, which will allow us to set up a campaign that reaches people who visited a website.

Select Website Traffic
You have some options here, but for retargeting, we're going to focus on website traffic so that we're reaching the people who got to your site.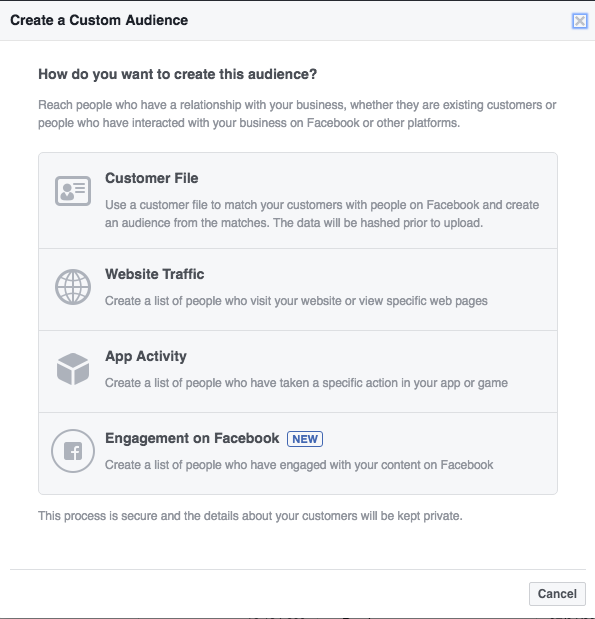 Select your target audience from the dropdown menu
You'll be taken to a screen, as seen below, that allows you to create your audience. You have the option of targeting the following:
Anyone who visits your website
People who visit specific pages
People visiting specific web pages but not others
People who haven't visited in a certain amount of time
Custom combination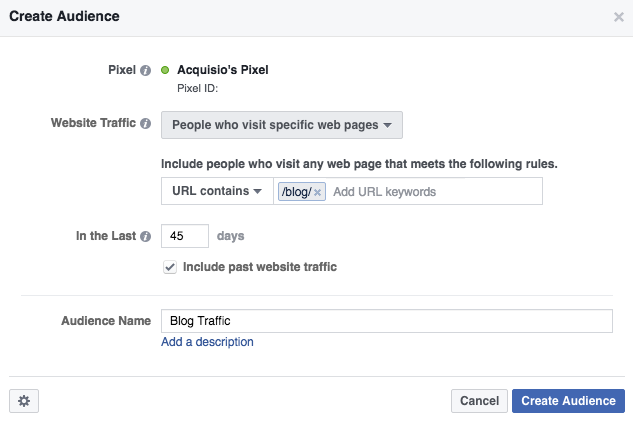 Just to show you how it looks, we set up a custom audience targeting people who visit our blog. As you can see above, you can target a date range, give it a name, and you're ready to get started.
Get your pixel code and place it on your website
If you don't already have pixel (tracking) code on your website, you'll need it in order to start retargeting.
What is pixel code? It's the code that you'll need to put on your website to track visitors. Why is it called pixel code? The code will place a tiny 1×1 pixel on your website that is transparent and can't be seen. It allows the visitors to your site to be tracked. By knowing they've seen the pixel, you know they've been to a particular page of your website or have taken a particular action.
Here's how to get the code: In your Audiences section of Ads Manager, you'll find your new retargeting campaign. Select it, and then click on Actions and click View Panel in the dropdown menu, as you see below.

You'll then get your pixel base code, which you can be place on your website if you're capable, or have to put your developer in there.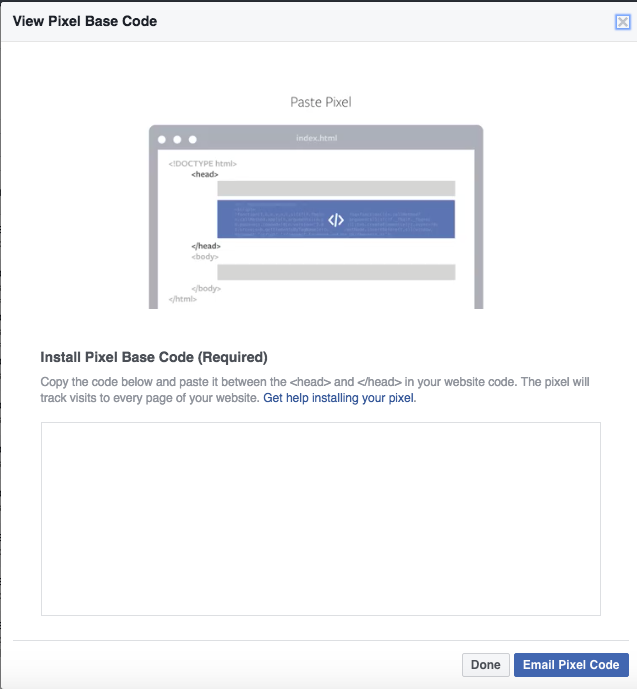 We are from THEJIGSAWSEO. If you want any service related to Digital Marketing then do contact us.