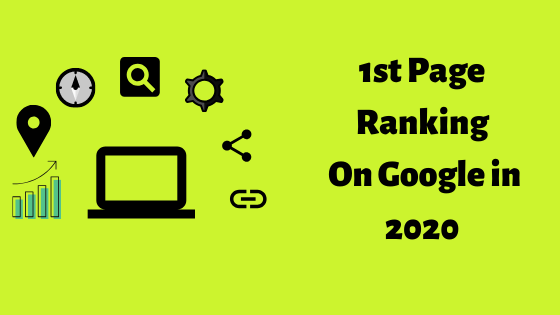 Tips To Help You Get 1st Page Ranking On Google in 2020
You may be a small business or a fortune 500 company, one thing that both rely on is digital marketing. And in digital marketing one technique that gives you the best return on investment is search engine optimization. So you may be planning to do your own search engine optimization or plan to outsources the job to a SEO digital marketing agency. These tips will help you in both the cases, I.e. to get the job done or to ensure that you understand what your digital marketing company is doing. 
Understanding SEO
Search Engine Optimization is a mix of technical and creative techniques that can ensure that you get higher ranking in the search engine results when someone searches for a particular search term. All search engines use algorithms that decide which websites get to be on the top of the search results for specific searches.  The algorithm ranks the websites based on a number of parameters. By doing SEO we try to ensure that we tick the right boxes for these parameters and hence ensure that the search engine ranks us higher. 
In this article we are specifically talking about parameters that are valid in 2020 as the search engines criteria is dynamic and keeps  on changing. We are focusing on Google and telling you about the techniques which can ensure a fist page ranking in Google.
Content 
We know that you have heard this over and over again. But still we would say that content is the best bet. If you have content that is relevant and useful to the viewer, you will just not rank higher in Google, but as the number of people reading your content increases, you should also get backlinks from other websites which relate to your content.
Exact Match URL
Having an URL that matches the search term is also an big advantage. This is specifically advantageous if you have a niche product or service. If getting a root URL for the keyword or phrase is not possible, at least ensure to mention your money keywords in the prefix or suffix of the URL 
Loading Speed
Having a fast loading speed for the website is also imperative. Now days Google gives quite a lot of importance to the user experience and having a website that loads fast is an imperative part of the experience. 
SSL Certification
This is also an important part of the website. Having SSL certification on the website is also an important part of ranking well on Google. The main reason for this has been the increase in number of scam and malware filled websites that have become a part of the World Wide Web. 
Using keywords or keyphrases in the content
Along with good quality content it is also important to use keywords or phrases that are closely related to your product and service. This gives Googlebots the right signals and ensures that your viewers search intent matches your page content.
Competition Research
You need to research about website that are top ranking in your niche.  You can fine details about the keywords or keyphrases they use, their best performing pages, the backlinks that they get, erros on the page and so on. You can use tools like AHREFs, Moz, Uber Suggest, SemRush, Longtailo Pro and so on.
Focus on long tail keywords
There is important for new domains. Even though they follow this method if the competition is high they would not get enough click to get their rankings high. They need to find keywords that have more searches with less competition. There are various free and paid tools which will help you in this aspect. Some of them are:
This does not work for new domains. So, you need to find long tail keywords. For example: if the topic is Top SEO companies in Mumbai in 2018 have some 1000 clicks. Then you can cash on it by making Top SEO companies in Mumbai in 2019. This will give you good ranking even though your domain is new.
Focus on title and meta description

Title and meta description are those which will make first impression on the reader. So, make sure that title is captivating and includes the keywords. The meta description should also include keywords and show the reader that they are going to get some quality information. The title and meta description has a key role in getting clicks. So, make sure to give your best in them.
Backlinks
These are incoming links that you get from other sites. Getting backlinks from sites which are authoritative and from your own niche gives your website a big ranking boost. Backlinks are still a very important part of Google's ranking algorithm. So bank links from sites that have a higher domain or link rank will increase your chances of having a higher ranking on Google search results. You can find backlinks by using Google and doing a search for " High DA do follow links" or can sue tools like AHREFs and Uber Suggest.
Responsive website design 
This basically means that your website should be able to adapt itself to screens of various shapes and sizes. Responsive design allows websites to appear proper and readable in all kinds of devises without any use intervention. They adapt automatically to desktops, mobiles, tablets or any other web surfing devise that you have. Since this is also and important part of the user experience, hence Google rewards responsive design website with higher rankings.
Some other things:
Putting primary focus keywords in your introduction.

Putting focus keywords in headings.

Links to other internal pages of your website.

Teaming up with similar partners and mentioning your link in their site. 
These are what you need to be done to make your website rank on top in google. other thank this you need to review this and understanding which is working for you. The keywords that have major impact and then implementing same strategy to your other websites.

If you had come this long then it is clear that you wanted to rank your page seriously. That is some thing that SEO and digital marketing companies can surely help you with. Their experience in the field will help you achieve your desired results fast. 

You can even try and get on top on your own. All that matters is what you prioritize to take time and improve your ranking or hire someone to increase it faster and convert click into leads and then to customers. The choice is always yours.