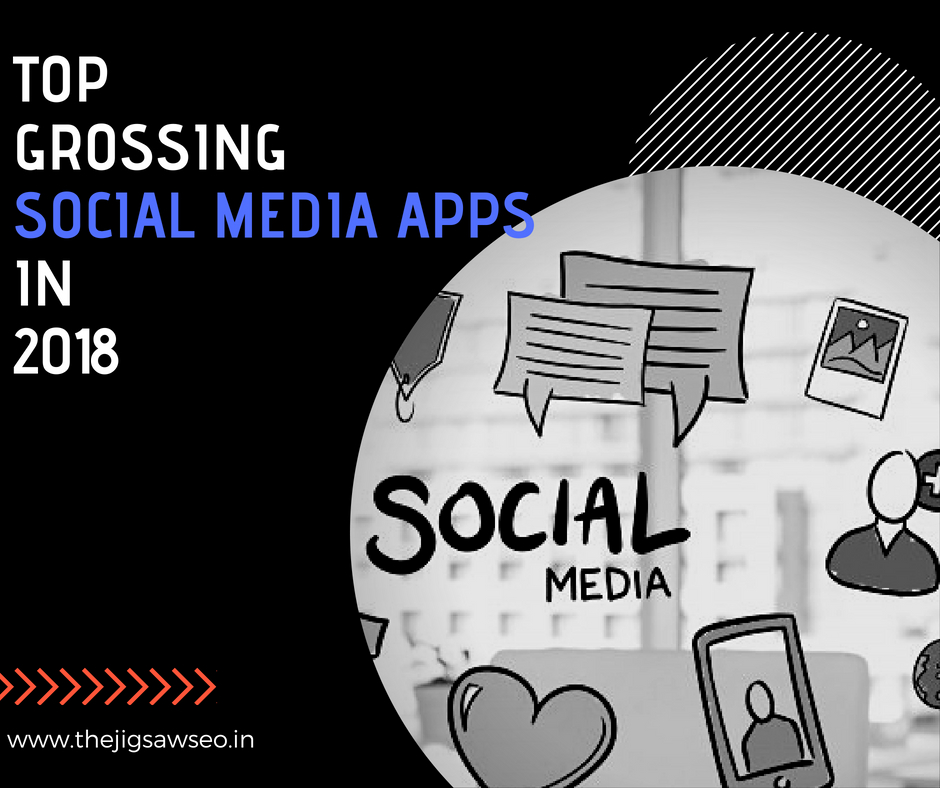 Top Grossing Social Media Apps in 2018
Being a modern day
digital marketer
, keeping up with the latest trends in the
social media
world is like a rule one must follow. The latest trends and apps have more reach probability and will be highly beneficial to you or your company. These new apps will provide a professional touch to your visuals and will also save you time and money. These are user-friendly and can be easily operated. So which are those apps you may ask? Here's a list of a few but top grossing social media apps which you can use to promote your content or your company's product.
1) Planoly –
Now, the pictures on your Instagram page gives out a lot more information than the details or information you mention below. It's the pictures that the people notice first. If you don't maintain the aesthetics in your feed, people will go away from the page due to the lack of attractiveness. Most of the social media marketers pay less attention on the aesthetics and more on the information and details. The Planoly app is the perfect tool for planning your Instagram feed from a visual aspect. Recommended by the Hootsuite's social marketing team led by Amanda Wood, this app gives you a preview on how your posts will look as a grid before you post. It also gives you data and engagement rates for every post.
This app is User Friendly and free for both Android and iOS.
2) Datally –
Whilst doing all the content posting, scrolling through the feed, editing and scheduling,It's not a surprise that your monthly or your daily data limit gets exhausted. Keeping atrack of your data is a tricky challenge. Coming to your data's rescue is Google's Datally app. This is data manager app that keeps track of your data usage and also saves data by taking control of the tracking. An immense amount of up to 30% of data can be saved by the Data Saver feature itself. There are other features also like Wi-Fi finder and Data usage metrics that function together to save money for those users that depend highly on mobile data than other average user.
This app is for Android Users.
3) Adobe Premiere Clip –
If you're searching for a way to make professional looking videos or clips, the Adobe Premiere Clip is the perfect app for you. This amazing app provides advanced features like editing capabilities, soundtrack support and custom lighting with several aesthetic options and more amazingly, it is free! About half of the respondents in the Hootsuite's social media team mentioned that they're already been using the app for creating and sharing social videos while there are about Twenty-six percent planning to start using in the upcoming months. The Adobe Premiere Clip is the proper industry standard app for mobile video production and can be used by every user on a daily basis.
This app is free for iOS users.
4) Habit Minder –
With a new day, or a new week or a new year comes the opportunity and the motivation to set new goals and resolutions. Most of the times due to our work load or the busy schedule, we forget or just don't get the time to carry out the objectives we planned. With the Habit Minder app, it is possible to stay with objectives or personal promises by sending reminders to do the tasks you've chosen like drinking water or even going for a jog in the park. This app lets you analyze detailed statistics and can also track the progress for each of the objectives. For busy digital marketers, the little reminders and mini goals can make a big difference between a neglected goal and a completed accomplishment. This app is free for iOS users.
5) Sprinkles –
You have an amazing picture to upload but also you're in a rush to upload and you need to come up with relevant and a witty caption for the picture. What if cannot come with something good? The Sprinkles app is going to save you a good amount of time here. This is a camera tool app the detects the subjects of your photos and suggests captions that could go on with the post. It also has a face detection feature that can be used to apply masks, stickers and filters to your images.This app is free for iOS.
So these are few of the top grossing social media apps in 2018. Easy to use and beneficial in many ways. Hope this list was helpful. Thank you for reading.