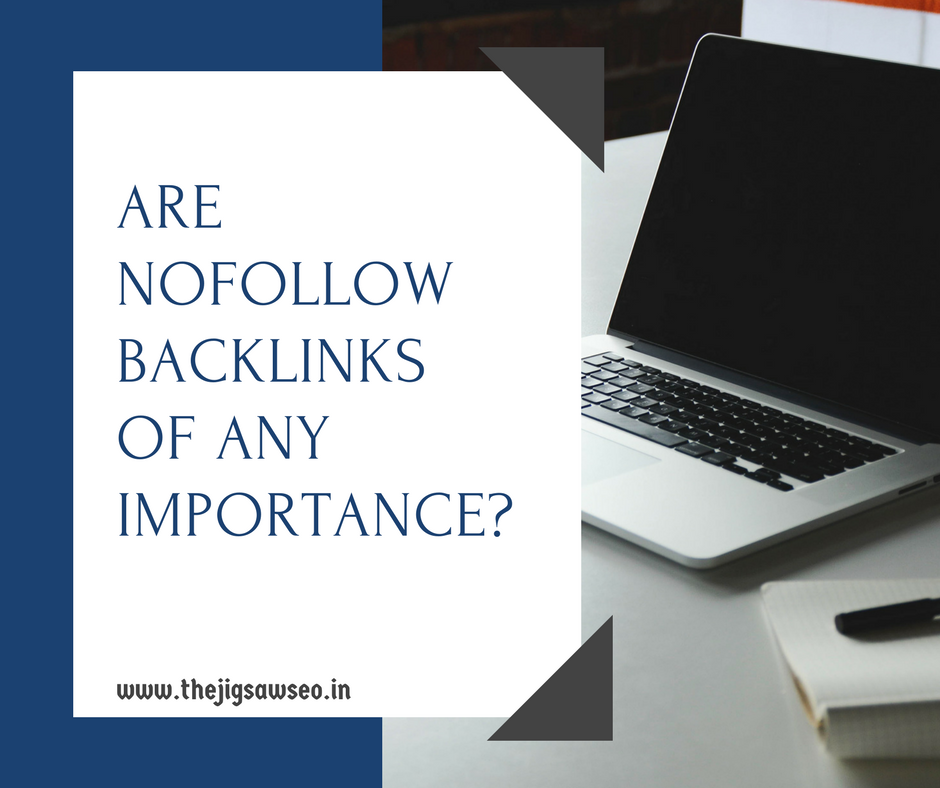 Are Nofollow BackLinks of Any Importance?
The world of the internet is a vast and limitless one, that we only see through our televisions, mobiles, laptops, etc. But, it is a virtual world and a lot goes on behind the screens that we see. Numerous procedures are carried out to display a webpage in a fraction of a second, web spider bots crawl through webpages to display results, keywords are searched to produce effective results, etc. One of the most crucial elements working behind the curtains are the various
backlinks
of a website.
Search Engine Optimization, abbreviated as SEO, is one of the most important things for a company that relies mainly on the internet. SEO basically means optimizing your website for various search engines so that it appears more frequently, and that way your website will get more traffic. When one is out there working to make the public aware of his or her business, links are VERY important. This is the reason why SEO companies are now offering link building services, to help out such businesses. Stick around, in this blog I'll be answering a question a lot of you have – are nofollow backlinks really important?
Nofollow Backlinks – The 'Don't Follow Me' Links
Whenever anyone speaks about search engine optimization, some of the most common terminology that is used, include words like noindex, doindex, nofollow, dofollow, and so on. In the book of SEO, all these words have a mutual significance. Before you get to know whether nofollow backlinks are important or not, you have to know what nofollow links are. Keep reading to know about them.
Nofollow is termed as an HTML attribute value, that is used to instruct various search engine bots that a hyperlink should not at all influence the ranking of the link target in the search engine's index. Nofollow links are intended to decrease the effectiveness of certain types of search engine spams, as a result of which, the quality of search engine results is improved and spamdexing is prevented from occurring in the very first place. The concept of Nofollow links was first introduced in the year of 2005 by Matt Cutts and Jason Shellen.
Nofollow links are attributes that don't allow search engine bots to follow any site link. This means that if a website owner is linking back to someone with various nofollow attributes, it does not necessarily pass on the link juice. Not search engine bots, but only humans will be able to follow such links to their content. If you don't want to pass on the juice link or don't want creepy internet bots following your link, nofollow links are your best bet. An example of a nofollow link is: –
<a href="http://www.google.com/" rel="nofollow">Google</a>
Nofollow links are the best ways that allow website owners and webmasters to tell search engine bots to not follow the links on their pages or to not follow any specific link whatsoever. Such kind of links are utilized in forum or blog comments in an attempt to retract the incentive for automatic spammers of links to place their own links there.
Now, the main question at hand, are these nofollow links really important? Well, let's break it down and discuss: –
Nofollow Links Lead to Profits
The major unseen power behind nofollow backlinks are their ability to reap great benefits and profits. A nofollow link can directly lead to any person spending an amount of money on your company's services and products. If you continuously and consistently keep creating awareness and engage with the public, those nofollow backlinks can earn you a lot more than any domain authority whatsoever.
How does this work? For example, you become aware of Buffer through someone else's Twitter link. You start following Buffer on Twitter. You engage with their content, you relate, and ultimately start to like their content. Next, you're at a position where you've made a subscription to Buffer for $10 a month. All this took place because of a mere nofollow backlink. A simple equation can represent what I'm trying to say here:
Awareness + engagement = profit
By becoming aware of a site through a nofollow link, one starts engaging regularly with it and ends up dishing out money to become a part of what's happening there.
One Link Leads to More Links
A single nofollow backlink also has the potential power to create more links. That ultimately means more cash in your pocket. A win-win situation, right? A few years ago, Joshua Unseth wrote a post for YouMoz regarding just this. He mentioned how a mere single nofollow link earned him the ability to have a second link that was follow by people. This increased his traffic and boosted his article to the very top of the SERPs for one specific phrase.
A single nofollow link has the power to create more links to help you capture a bigger traffic and have bigger profits. It just takes one click; one click can lead to a numerous number of links.
Nofollow Links Aren't that Bad
Honestly speaking, nofollow links aren't the end of the world. I know that search engine optimization professionals all aim for the followed links that pass on a lot of the juice to the websites of their clients. But, a nofollow link isn't too bad a thing. These links are significant, valuable, and extremely important to any individual who is looking to build his or her brand online. They hold a significant power and have the ability to establish a website to reach its full potential.
The best part about nofollow links is that they help to increase the consumer base. As I mentioned previously, one link can lead to many more. thus, one nofollow backlink can give rise to many other links that can ultimately fill your pocket with a lot of cash and help you reap the benefits.
Nofollow Links Generate Awareness
If you're a website owner, the thing you'd want right now is for your site to be discovered, right? Nofollow links are also a great way to create awareness about your brand and what you have to offer. As I said, one link gives path to various other links. This way, the audience will actually want to know what your link leads to and what the content is about.