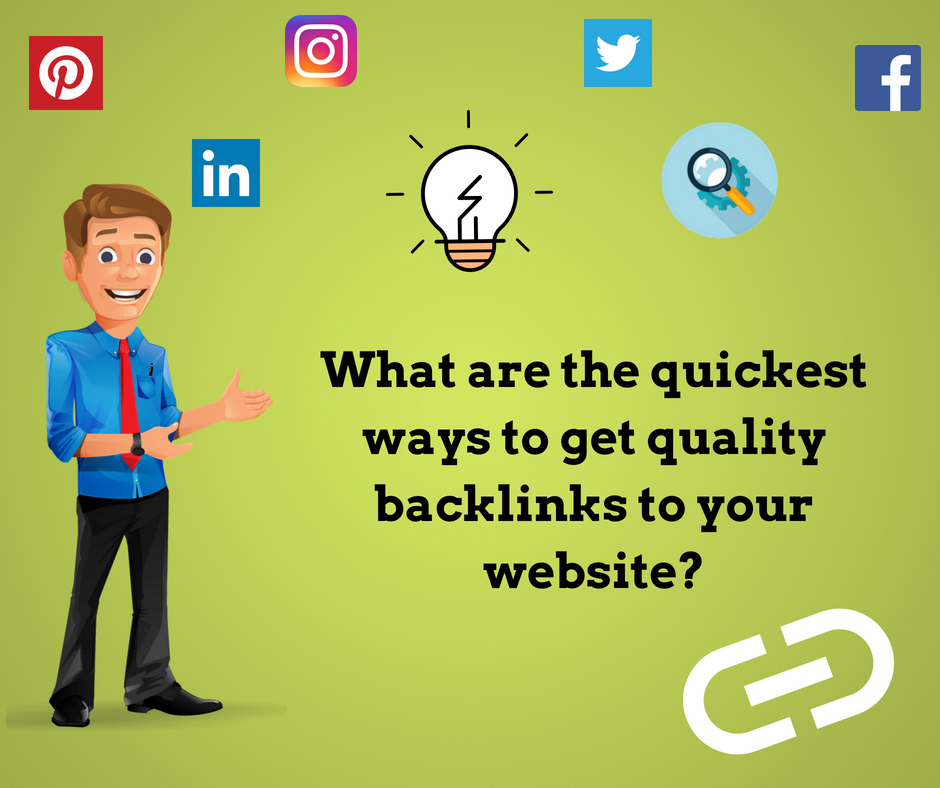 What Are The Quickest Ways To Get Quality Backlinks To Your Website?
For even a particular search like 'brass glasses', Google shows 1,68,00,000 results. Then how do we get pages of our website to rank in the top 4? Search Engine Optimization has always been the key to getting your page on the top.
Page Rank was used by Google back in the late 1990s for ranking the web pages based on the number of links pointing to it. Thus the quality of a page could be determined using this approach. This approach started becoming an effective way for finding good pages on the internet as the links act as a thumbs up to such pages.
This can be understood with an example of how we can recommend places to eat out to our friends. The ones with maximum recommendations are definitely better than the rest.
Search engines crawl web pages on the Internet. Once they have completed doing this they extract the relevant information from these web pages and stores them in the index. The quality of the web pages depends not only on the content but also on the number of backlinks that are pointing to this page.
Having this in mind, it becomes very important for websites to have a maximum number of high-quality sites to have backlinks to their web pages. Experts spend a lot of time optimizing this particular aspect.
What are the other ways in which link building can help a business apart from boosting the ranking?
Building a network
Getting backlinks often involves reaching out to businesses and websites that are related to the kind of work that you do. You will want to promote your work with the help of such businesses. This work can be anything that you have just published an article of any other post. When you will reach out to the other businesses, you will start developing a relationship with them. They can act as influencers for your business too. With the more number of such people in your network, you will start gaining a valuable place in the market. You will also be able to reach a larger crowd of people in this way.
Sending referral Traffic
Backlinks help improve your search rankings. This way the traffic to your website will increase. However, this is not the only way the traffic increases. The referral traffic coming from the backlinks will also help boost traffic considerably. What also needs to be considered here is the quality of the traffic that you will be getting.
Consider an example in which a famous author is writing about how to develop characters in a story. In this article, he adds a link to your website which has a questionnaire on the same topic. The people who will visit your website through this author are genuinely interested in your work. They are your quality customers that will stay longer as compared to the ones who have just stumbled upon your website. The number of such users might be less as compared to the other sources but they will probably like to keep visiting your website and in turn be very valuable.
Making a brand name
If the content that you put up can make your mark in your field then it deserves to be seen by maximum number of people. If the post that you put up has a superior quality, it will help you establish your brand better and make a name. For example, if your write a piece which has to do with a research of the current trends in your field, others will want to link to this article. You will also be able to get your brand to their audience.
Here are some of the smartest ways you can use to get backlinks:
Guest Posts
Guest Posts can be a great way not only to get backlinks but also reach out to a wider audience and build a good reputation. This audience will be a little different from your original one an will help you get a good exposure.
You can find the various blogs that accept guest article online. Filter out the ones that seem most appropriate to you and use them. You can also take help from Instagram or Twitter-like social media platforms to find more opportunities.
Quality Infographics
Visual information is on the rise. The number of people driven to your post through an infographic can be high depending on the quality of the infographic.
When we talk about the quality of the infographic we also consider the topic and the information that will be conveyed through it. You might have to do some market research and find out the trending topics on which you can design a good infographic.
You can hire professionals or other artists from sites like Dribble or Fiver to work on your design. They will help you make great-looking designs and give a good ROI.
Build Internal Links
Internal links in your blog will help the user navigate through the blog as per her preferences effortlessly. This will also enrich the user experience and in the end give you a higher rate of page visits.
Although there are many tools and plugins available that could help you build internal links, you can always go for doing it manually as it is much preferred.
Make use of Testimonials
Writing testimonials about the various tools and websites you are using can be an easy way to get backlinks. You can spend some time writing these and chances are that you will get featured on their homepage.
Get Interviewed
Once you have carved your niche in your area of expertise, it will be fairly simple for you to get opportunities to get interviewed. You can use them to get backlinks too.
Even if that isn't happening yet, you can always find out websites that are running interviews. You can get in touch with them and tell them what value you can add.