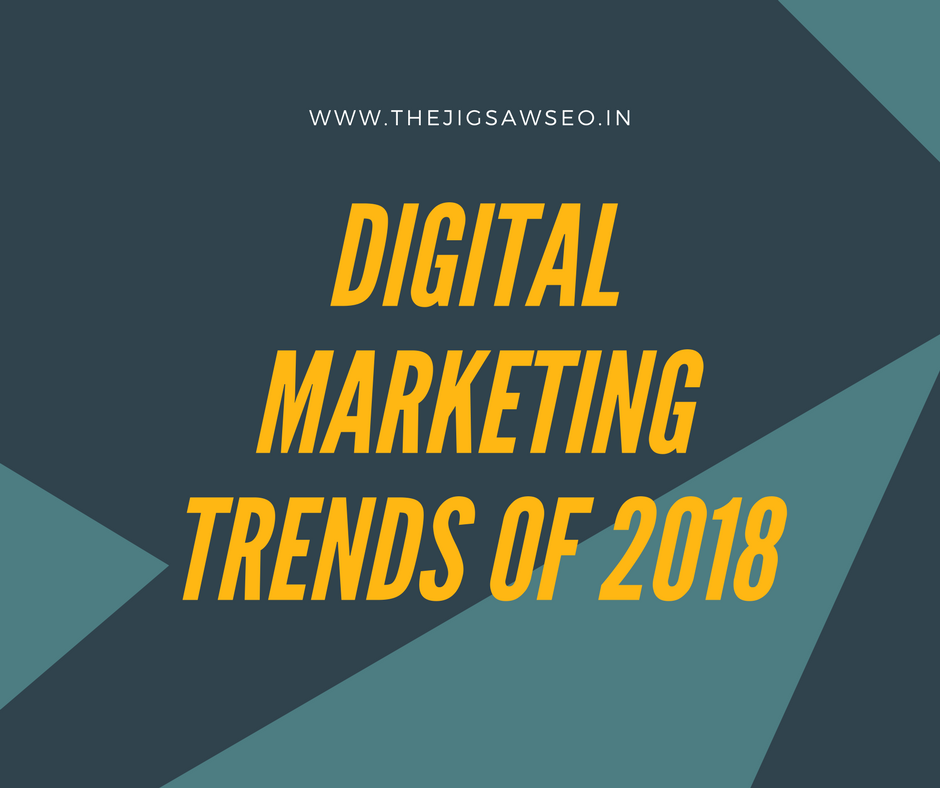 Digital Marketing Trends of 2018
In the marketing industry trends play an important role, in fact what's the cutting edge, what's hot in the present market scene is the foundation of any marketing approach. We are moving towards new ways to communicate with our audiences. Here we are going to learn about what's coming, take this as a learning opportunity to expand marketing efforts by analyzing what's going to be relevant for the upcoming year.
Video consumption – people like to have a visual treat for themselves. Video consumption is definitely going to rule the roost for this very reason. It can be on Facebook, WhatsApp or Instagram. Companies are going to heavily invest in this idea as they'll be more visible and virtually accessible thus imprinting their brand image on the minds of the customer. This is the easiest and most convenient way of grabbing content.

Instagram stories – if you want to present your company creatively and innovatively, this one's for you. With seasonal stickers, rewind features, zoom in features, live polls, live stories , companies are most certainly going to get an upper hand. Instagram helps companies, particularly those who are involved in serving customers directly, attract customers on a one-on-one basis. So, it's time to grow your followers on Instagram.

Year of Instagram – This is, hands down, going to be the year of Instagram. With Snapchat slowly blurring out into the oblivion, Instagram is going to grab the top post. In fact Facebook has joined in on team Instagram to drive out Snapchat. Companies should invest in Instagram advertisements, Instagram boost posts etc.

Live feature – brands heavily invest in live tools like live shows, live campaigns, live posts or streams on social platforms. Live posts get them the maximum attraction on social media especially the scheduled ones. Live session is definitely going to give you serious advantage over others in achieving your marketing goals.
Long haul posts – companies should invest in fantabulous content. Short haul contents with short shelf life like festive posts are not enjoyed anymore. Identify the issues of your customers and address them through creative videos and posts. Create memorable videos and posts and let them be inspired for a lifetime.

Website chatbots – artificial intelligence is the new thing on the block and certainly the most evolved and efficient. With banking sector and so many tech companies already indulged in having virtual assistants to resolve customer queries, it is going to be the one with the largest scope for growth. Tools like collect chat, Drift and many other are going to help brands converse and collect data on websites.

Facebook ads brand funnel – Facebook is changing the way leads were generated on the internet and this is going to be a game changer. People are slowly creating a customer's journey with their respective Facebook advertisements. You can create audience out of existing people or followers on your page, through messenger, advertisements, lead forms, videos etc. So it brings to light the fact that what your audience sees on your page is going to affect them and influence them to follow you or your product.
Influencer marketing – this will slow down with focus on more and more quality reach out than just a quantity reach out. Main attention will be on long haul influencer marketing rather than numerous short haul one's.

Voice optimization – in the year 2017, 20% of the searches were conducted through voice, according to a report. This trend is expected to follow the path of growth and reach 50% by the year 2020.

Native advertising – more cost effective and drives more number of people. This assures people, indirectly, that you are considerate enough to develop content in regional language for their benefit, so the product must also be worth checking out. Regional advertising makes the whole idea of advertising more reliable and people tend to relate better with such advertising. It drives more engagement of people on social media on the whole. This year searches in regional languages will surpass the number of searches in English.

Twitter – well, unfortunately, the blue bird won't be our friend for long. There wasn't any evolution to be seen on Twitter as far as the advertising scene is considered. It won't play a bigger role in the ongoing term.

Snapchat – it will ease off a bit. Snapchat is going to allow a marketer friendly platform. It will allow them to approach it and try out marketing for their benefit. This is to done by Snapchat to stay in the league otherwise it is going to ( or it probably will) die a slow death with the rise of Instagram.

Personalisation of sales funnel – all stages of sales funnel are going to be personalised and assistive this year, in order to be more relevant to the customers. It is going to be an year of personalised content, with an emotional chord in the background. This personal, intimate touch is certainly going to prove a boon for the marketing strategy as humans are slave to their emotions and to play that card is a sure shot way to win.

Content marketing – Data has always been the driving force for targeted marketing plans or efforts whether they are about how to be more productive, how to be smart, more efficient or more productive ultimately. Data continues to drive our efforts in this direction. Lot of innovations in interactive media, video productions, videography and more are going to be like the cherry on top as they will help fantabulous data to be presented in an appealing manner.

Predictive lead scoring – researching emails and patterns across data requests, searches and user history in order to understand the human behaviour in a better way. Whatever you are watching, whatever you are

WhatsApp for business – goibibo, bookmyshow have integrated WhatsApp for business. More are soon to follow.

Facebook messenger – this is going to help generated a good base of customers. Reaching out through messenger is a great idea as the people that already follow your page will also be updated and ultimately they will encourage their friends or acquaintances to follow suit.

LinkedIn for thought leadership – LinkedIn videos and posts can change the life of marketers. Professionals can share share their journey, any tips they may want to give, any stories of struggle, anything is welcome and they can become the most influential person on LinkedIn for this year.

LinkedIn for B2B – business intelligence based marketing product. Sponsored posts, lead generation advertisements, to give B2B marketers a place to hang out.

Amalgamation of audience data and machine learning – this is a going to be a key competitive advantage for brands. Their feedbacks are important in order to derive their choices out of their experiences.

Shift from channel first to customer first marketing – with a hoard of different channels with us, be it radio, tv or print media, it is really necessary to move onto a customer based model to identify the needs of the customers holistically. This is essential in order to offer something compelling to the customers, because unless we understand them completely, we won't be able to meet any of their requirements or stand up to any of their expectations.