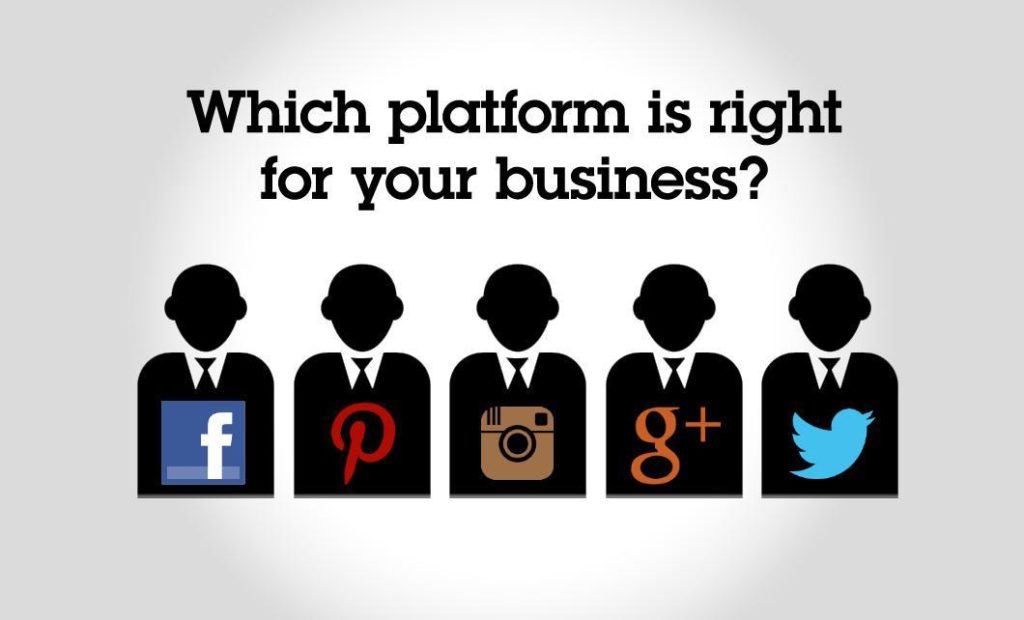 Which Social Media Platform is Best for Your Brand?
Let me ask you a question, can you live for one day without switching your phone on and using any social media app? I bet almost all of you will be saying a big NO and considering me borderline insane for asking such a question. I know, I know, I wouldn't be able to do it too! This just goes to show how big a part of our lives social media is and this doesn't necessarily mean putting up every detail of our daily schedules on
social media platforms
. Social media helps us not only connect with our loved ones, but it also helps us stay up to date with everything going on around the world.
There's no longer any question that social media is a necessary marketing tool for every business that wants to remain relevant and visible in today's busy online world. In fact, 92 percent of marketers say that social media has helped increase exposure, which means that if you aren't using social media to its fullest, you're missing out on a huge opportunity.
But getting started can be difficult, and even something as seemingly simple as choosing a social platform can be more complicated than you'd think. There are thousands of social networks out there to choose from, but the good news is that you can start by narrowing it down to the most popular and most widely used platforms. From there, it's all about determining which platform will give you the exposure you're looking for with the right audience, and figuring out which one will help you meet your marketing objectives. So, to help you out, I'll be telling you about which social media platform is best for your brand. Do keep in mind, it all comes down to your preferences.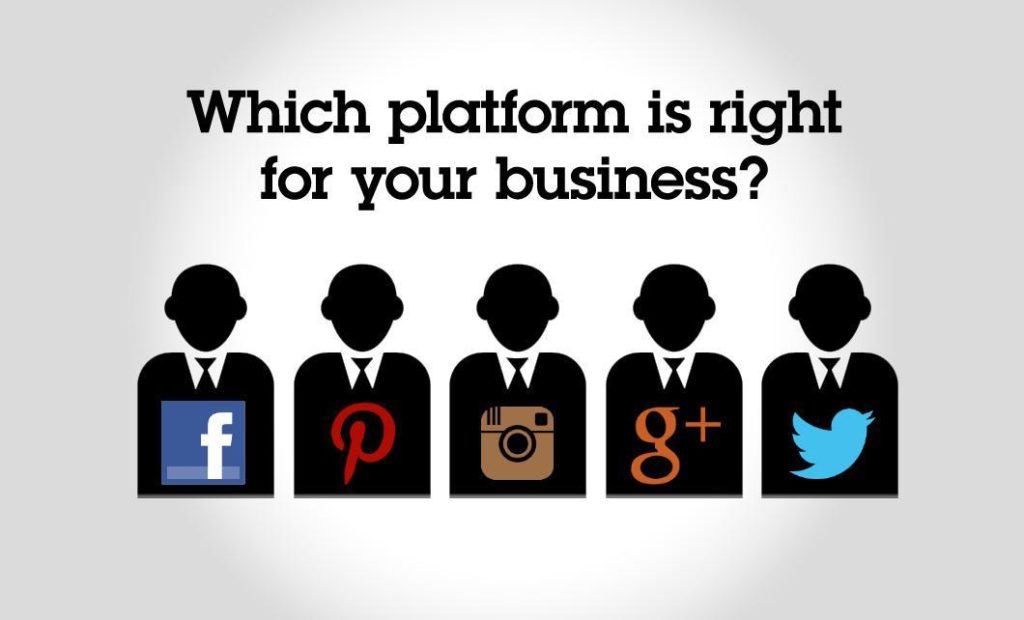 The Advantage of Using Social Media Platforms
With over 15 million brands on Facebook alone, social media is becoming an essential part of any business practice. There are clear advantages of having your business on social media such as spreading your company's message to a wide audience, advertising your product or service online for no cost, and most importantly helping you gain new potential customers. With such a large variety of social media platforms out there, picking the right one for your company may become overwhelming.
You might be wondering which platforms are the best fit for your business and which ones will allow you to be the most engaging with your target audience. Well, I will help you make your decision easier by providing you with a quick social media guide on the most popular platforms and how to choose the ideal ones for your company!
Narrowing Down the Choices
There are social media platforms out there for everything and everyone, including ones to connect people with shared interests, similar hobbies, comparable demographics, and much more. The point is that there are way too many social networking sites out there to ever have a presence on them all, and your time would be better spent focusing on the sites that get the most traffic. Of all the social media sites out there, the top ones in terms of monthly active users include Facebook, Twitter, Instagram, LinkedIn, and Pinterest.
The Social Media Platforms for Your Business
Coming to the matter at hand, these are the social media platforms you should consider for increasing the success of your business: –
Facebook
The brainchild of Mark Zuckerberg and the ultimatum of connecting billions worldwide, when discussing social media platforms, there is no one bigger than Facebook. Founded in 2004, Facebook has more than 2 billion monthly active users and actually owns one of the other networks on this list, Instagram. What started as a way for college students to connect, share messages, and send online "pokes" has grown into a serious business, and a serious place of doing business.
Facebook allows businesses to create brand pages, which followers can "like" to indicate their interest in following. But organic reach among those who like Facebook pages is dismally low, as Facebook prefers businesses to pay to "boost," or increase the reach of their posts to their full audience. Best practices are to send new updates to your page a couple of times per day with unique, interesting content that can include links to your products and website, and other curated content relevant to your target customers.
T-shirt brand Threadless is a great example of a high quality, engaging business Facebook page. It has earned the company over 900,000 likes.
Twitter
Founded in 2006, Twitter boasts about 330 million active users. While it is a fraction of what Facebook has, 330 million is more people than live in the entire United States. Twitter users send short 240 character (formerly 120 character) Tweets, or messages, to their audience. Tweets tend to have a shorter lifespan than posts at some other social networks, so active users often post many times per day. For a business, a good starting point is around four to six unique messages per day.
Twitter is best for news oriented messages, focused on current events, though the network is known for sharing mundane things as well, like what people have for lunch. If you are on Twitter, be sure to monitor it constantly. This social media platform is popular for complaints to businesses, and users expect quick responses. Ignored messages on Twitter are tantamount to ignoring the customer. But if you can stick with positive messaging and respond to your customers quickly, it has a highly engaged user base that might be happy to buy your product or service.
Toilet paper brand Charmin does a great job bringing humor into its Twitter feed to delight its more than 80,000 followers.
Instagram
Our beloved 'gram, the worldwide hub of pictures and videos that connect millions, Instagram is focused mainly on images. While text descriptions and hashtags can accompany your photo, you can't add links to your posts. Instead, you get one link in your bio for users to go wherever you hope to send them. Instagram users tend to be highly engaged, even more so than some other social media platforms. Instagram has 800 million active users, so jumping in to engage with this crowd is not a bad plan!
Founded in 2010, Facebook purchased Instagram in 2012 for $1 billion. Business across the spectrum find success engaging their target audience on Instagram. Like Facebook, paying helps boost the reach of your posts. With the right photos, Instagram is a good platform to promote a wide range of products and services. Posts that include funny or glamorous photos tend to perform well on this social network.
Small business divinityla sells bracelets online, and does an amazing job showing off its California based brand on its Instagram account.
YouTube
Our daily mode of relaxation and entertainment, YouTube is the second biggest search engine in the world. Owned by Google, YouTube has 1.5 billion monthly users who login to watch video content, which can be shared and commented on through the video's page. If you can come up with high quality educational content, video performs very well online. As smartphones get more powerful and phone internet speeds get faster, more and more people hop into the YouTube app to watch videos both at home and on the go.
Don't just upload advertisements for your business. People often go to YouTube for "how to" videos, edutainment, and sometimes just pure entertainment. Providing a mix of those will help you grow your audience. If you hit it just right, you might make the next viral business that brings your business to a much bigger spotlight. Successful videos generate millions of views, and that can easily translate into sales.
My favorite YouTube business channel comes from Blendtec, a blender company. "Will it blend, that's the question." The answers are always entertaining.
Pinterest
Where else would you go for wallpapers and pictures for every mood?
Founded in 2010, Pinterest has 175 million active monthly users. Pinterest allows users to add "pins" of images from around the web. These images can lead to clicks through to websites, videos, products, and more. It began primarily as a site for women to share things like recipes, home decor, and wedding planning ideas, but has grown to include many male friendly topics as well.
Travel guide company Lonely Planet is an example of a high quality account. If you can bring your brand to life through pictures, you should definitely include Pinterest in your repertoire. Due to the nature of how pins work, they are great for promoting blog posts and products that are just a click away.