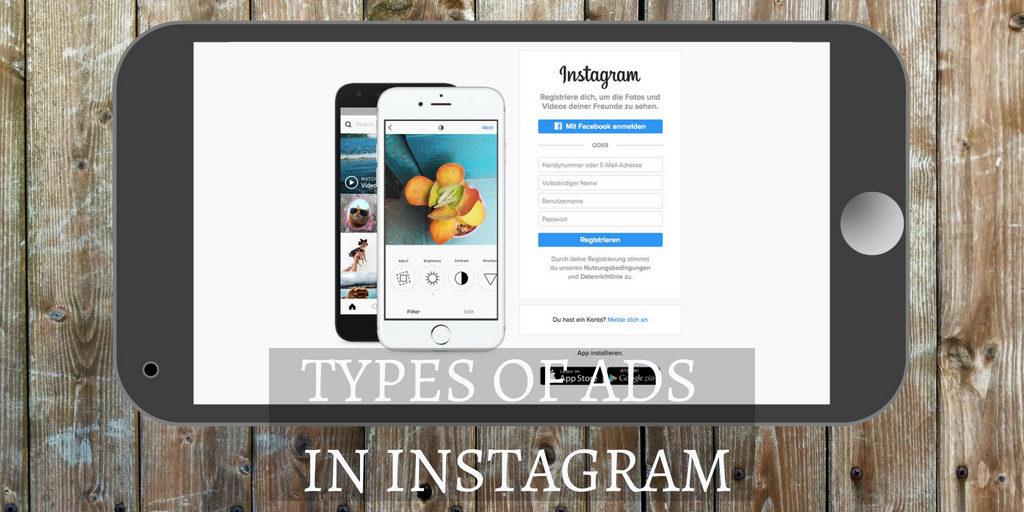 Types Of Ads In Instagram
Digital marketing
is at its peak in today's media frenzy. Everybody, everywhere wants to cash in on this rising trend. Sure, making your presence noticeable and getting appreciated for your content is what matters today. Social media presence is all the more appreciated provided you make the most out of them. Instagram has been on the rise since the last few years. Every business or company is on
Instagram
. One of the main reason for it's rise is its dependence primarily on images. Visual content has more appeal than textual data, for sure. Having less description, bio makes it really simple and manageable. Now as everybody seems to be on Instagram, it is definitely a great digital marketing strategy to advertise on Instagram. This will ensure more visibility and hence, ultimately a wider customer base. We'll see some types of ads along with some tips to capitalize on this popular
social media platform
.
First, you need to keep in mind that your profile has a lot of interesting photos. Nobody wants to see boring and dull images. You need to keep the viewers engaged. People connect better with visually sound images.

You can also do shoutouts to divert your viewer's attention towards a particular issue or a particular person linked to company values or something like that.

You need to post regularly. If you don't, people will leave as they are going to think that this person is not interesting or not active anymore. You need to keep them involved. Let them know you are there.

Use hashtags – it keeps a large number of people involved. It links different pages and hence a greater number of followers. Hashtags let people find you. Without their use, you'll be limiting yourself.

Host giveaways – you could celebrate an achievement by hosting a giveaway. This also attracts more people and helps you interact with them. Who doesn't like free gifts? These are a crowd puller, for sure.
Photo ads – you can create a photo ad by taking a photo and promoting it or select a photo from your gallery and promote it. One thing to note is that you'll be able to create a photo ad after you have set up a photo post. You can also use already created posts. You can go to a photo post that you have published and promote from there by tapping on the profile icon, once there you need to click on the promote button. As you click on this button, you'll see which posts are eligible to become ads. Certain prerequisites like 1080p resolution are needed to be eligible. Then you need to select your purpose, be it growing your business or increase the number of followers, about making the ad. Next you need to select the destination where you want the viewers to come to when they click on your ad. You can also add buttons for call to action, like learn more, shop now, book now, sign up and contact us. You can even set your target audience according to interests, age group or gender, budget and your campaign duration. You can preview your ad once you are finished with all the customisations. Finally click on create promotion.
Paid for ads – these ads contain little sponsored badges. They are similar to paid advertising on Facebook. Ads on Facebook are highly interactive in nature. People can ask questions in the comment section right in the ad, they can like the page and also follow the page for more updates. Same goes with Instagram. This can be your last resort if you don't have the time to try out other options.
Instagram ads through Facebook page – you can create Instagram ads through the Facebook page linked to your Instagram page. You need to go to create campaign, you can set your target audience, you can also select the kind of device you want your ad to be compatible with, like smartphone, pc, tablet etc. You need to select the type of ad you want to create. You can also use the create campaign option to build up your entire marketing campaign on Instagram. You can mention the buying type, which is generally, auction type, and your objective of creating this ad campaign. Objectives might vary depending on the purpose of your business, whether you want to get more clicks on your website, increase your followers on Instagram etc. Next, you want to create an ad set, which is exactly what it sounds like. It is a set of ads to go in your campaign. Then, of course you want to create a new ad and click on the option, create new ad. Lastly, click create. You can even set the budget for ad sets and also schedule them in accordance with your targeted audience or you could run ads all the time. Ad sets are basically meant to run multiple versions of the same ad in a single ad. As soon as you reach your budget worth of clicks they are going to stop showing your ad.
Now that we have understood the main types of ads on Instagram, we should keep in mind some of the essential prerequisites for these ads to function properly. These ads can be created through Facebook page that you have linked with your Instagram account and through the desktop version only. Usually the cost per click for Instagram is higher than that in Facebook. You can target a whole lot of audience base through Instagram. Instagram is owned by Facebook and most of the users link their Instagram accounts with Facebook. This in turn helps widen your base. As we know that Instagram doesn't keep much info of its users but Facebook does. You can cash in on this factor by utilising your Facebook viewer base to watch something you put on Instagram like ads, in this case. So, while creating ads through Facebook you can target audience based on their gender, age range, country of origin etc. You can also save your audience preferences and edit them according to varying factors.