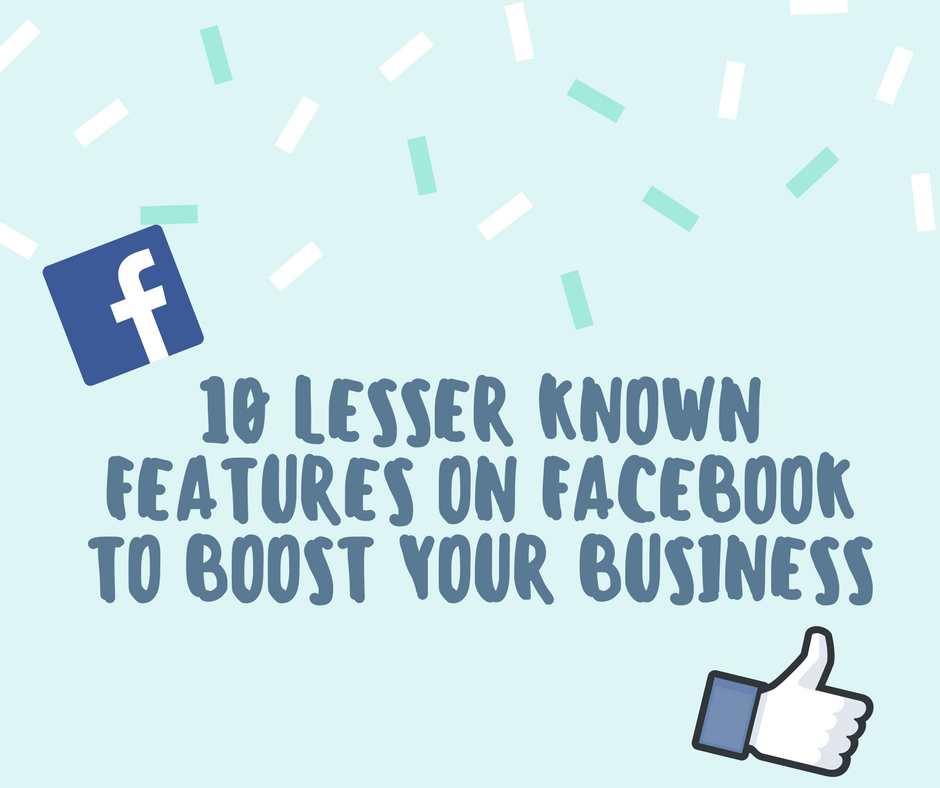 10 Lesser Known Features on Facebook to Boost Your Business
Social media has become a very revolutionizing platform for people of all ages now. Gone are the days when social media meant only posting pictures and stalking your crushes. Out of the many social media platforms that exist, Facebook is probably the most used one on a daily basis. A majority of people consider Facebook as just a place to meet new people, share pictures, write posts, etc. While all that is possible,
Facebook
is a place for higher possibilities.
One such possibility is social media marketing. In simple words, that means marketing of your brand or company through social media posts. This means being active a lot, following other brands, posting stuff about your own brand, etc.
There are more than 1.8 billion active monthly users on Facebook, and for them, scrolling through the feed and catching up with the latest of news is easy. But for the social media marketers and managers managing their successful Facebook pages, there's a lot that goes on behind the curtains. This makes it a challenge to keep up with all of the new features they are rolling out on a regular basis.
That's why it's important for the social media marketers to share all of this useful Facebook marketing information so that they can create a better experience for their audiences. Because at the end of the day, it's all about the public.
If you are, too, looking to boost your business through Facebook, this article is your perfect destination. Come, let's take a look at 10 lesser known features on Facebook, that can help you in marketing your business better.
1) Setting a target audience for your posts.
When you want to post something on Facebook, you want everyone to see it. but when it comes to boosting your business, you want a target group of audience to take notice of it. With Facebook, you can do that. This is one of Facebook's secret features that allows social media marketers to set target audiences for their posts.
When you're creating a new Facebook post, click on the target icon in the lower left corner.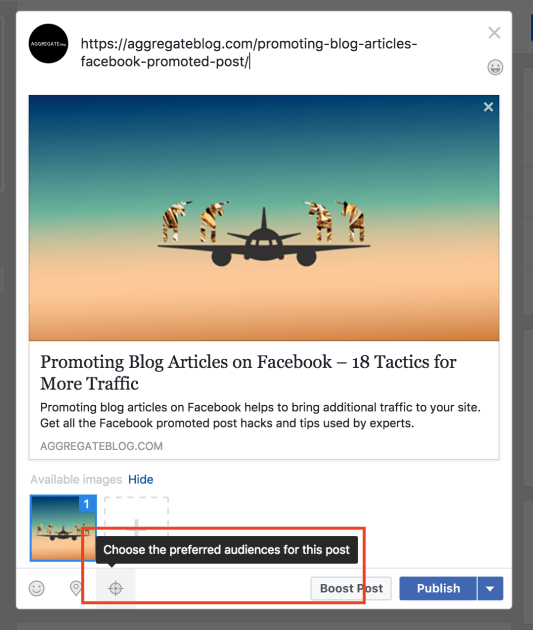 When you click on the icon, you can target people based on their various interests. You can also restrict the audience according to your own liking of age. Pretty cool, huh?
2) Turn post likes into fans.
Now, this is something even cooler. Facebook likes are a big deal, as we all know. The amount of likes we get on our pictures literally show us how popular we are. But, what if you could make people fans of your business page via these likes? Cool, right? There's a way to do that as well now.
When you make a post and click to check the number of likes, a new window will appear with everyone who has liked the post.
If there is someone on that list who hasn't liked your business page yet, invite them to do so, and that's it! Once you use this approach to every Facebook post you make, your fan base will grow amazingly.
3) Like other pages as your brand.
We all know that the business world is all about contacts and communications. So, in order to increase your business, you've got to share some love to get some love. The best way to do so is by liking other brands' pages as your own brand. This crisp feature allows marketers to grow their fan base by becoming fans of other brands as well.
To do this, search for the brand's page you want, go to their timeline, click on the small gear icon and choose "Like as your page". That's it.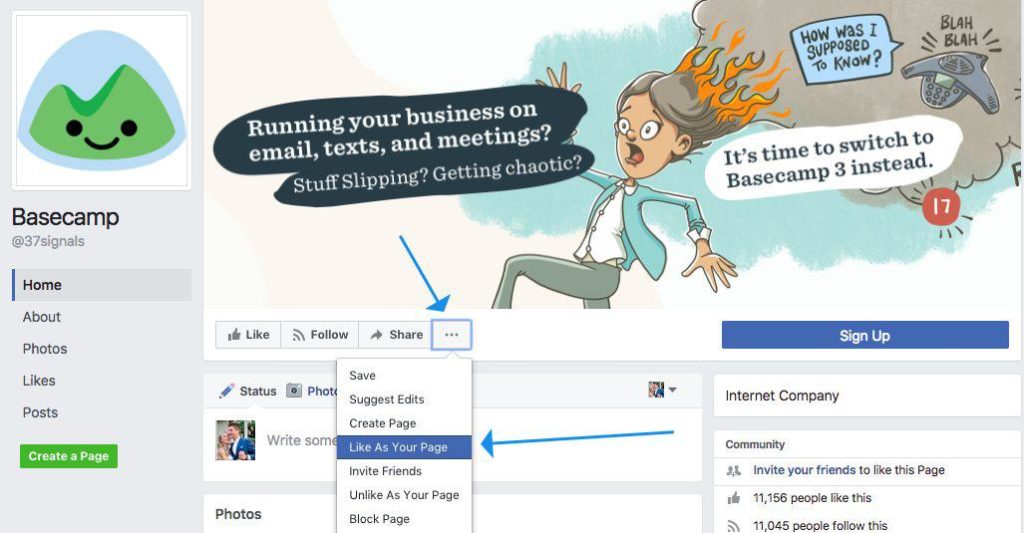 4) Audience Insights feature
Wouldn't it be great if you could know what post to content regarding your target audience? That would definitely be pretty awesome. Facebook has a nifty hidden feature to help you do this. Facebook's Audience Insights provides you with details about your target audience, so that you can post more relevant content and attract more people. The more people you attract, the more your business profits.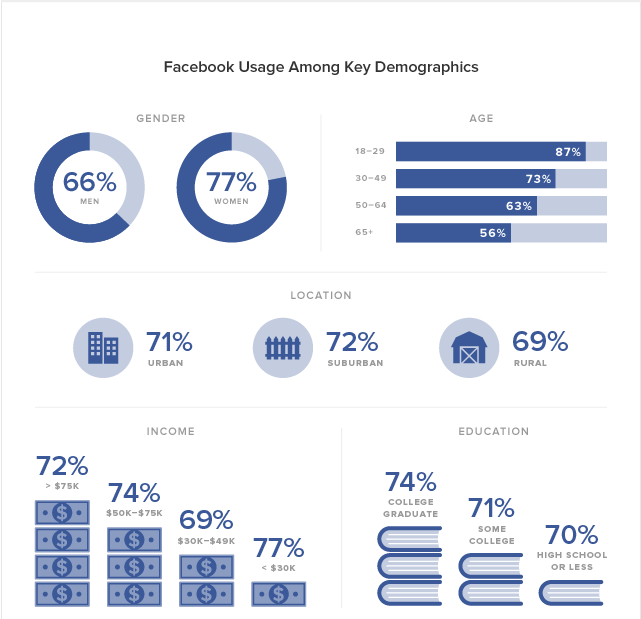 5) Pin you posts to the top for more visibility.
A lot of Facebook Page managers are still unaware of this but pinning your posts at the top is another great way to help boost your business. It is pretty understandable, the more your posts are visible, the more people will read, and that is all the more profit for you.
To increase your post's visibility, go to the top right-hand corner of your post and click on the downward-facing arrow. Choose "Pin to Top" and that's it. your post will now be visible right at the top.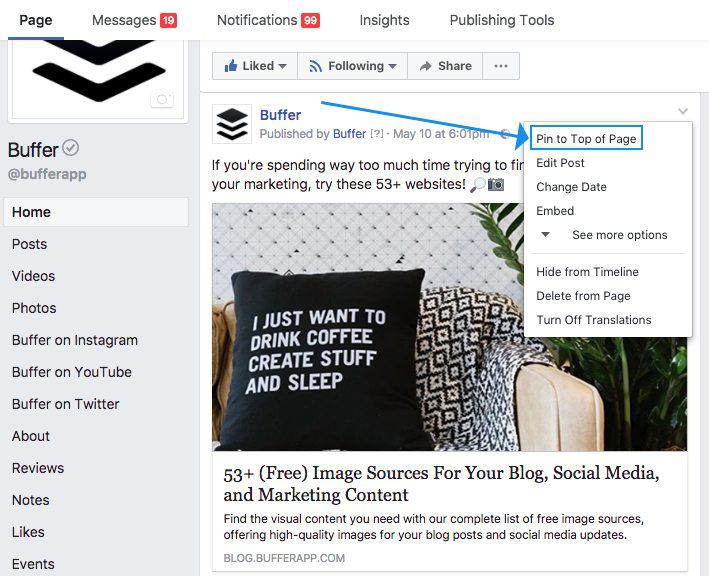 6) Downloading you Facebook history.
Yes, Facebook also has a very lesser known feature that allows you to download your entire Facebook history. You can download it all as an archive which will allow you to review all your posts, recover messages and chat, see all the ads you've seen, retrieve facial recognition data, get past information from your profile's 'About' section, etc. Downloading your Facebook history is a great option for business analytics and to help you know how you can boost your business even more.
To do this, go to 'Settings' and click on 'Download a copy', and that's it! All your Facebook history at your fingertips.
7) Customize your page's look.
This is a new feature rolled out by Facebook, which a lot of people are still unaware of. As we're moving ahead with time, you cannot let your business page look old and stocky. This feature allows business pages to customize their look depending on their business type. This is a great way for you to rearrange your page and put important content first for readers to see.
To get hold of this feature, go to the 'Settings' option of your business page. On the left-hand side, you will find an option for 'Edit Page'. Click on that.

Then, you will see a 'Template' option you can edit.
Here, you can choose from various templates for your business page, like – services, non-profits, politicians, restaurants, venues, etc.
8) Tag personal profiles.
Tagging personal profiles on your Facebook page is one of the best ways to increase interaction and reader base. Maybe you need to notify the winners of a contest, share a post from an influencer and wanted to let him or her know, etc. The best way to do this is by tagging the personal profile or profiles with Facebook's lesser known feature.
To do so, write your post and click on the downward-facing arrow and choose 'Edit Post'. In the editable portion, write @ before the person's profile name and tag them in the post. That's it!
9) Using Post Attribution
Another great way to boost your business is by posting on your page with the correct identity. Very often it can be seen that a page has posts from various identities, many of which turn out to be fake. This decreases the page's readership.
To solve this issue, use the default Post Attribution setting. To do so, visit your page's settings and click on 'Post Attribution'. Then, choose your preferred default identity and you're all set.
10) Searching previous posts for particular wording.
Finally, this is another lesser-known Facebook feature that will you out greatly to boost your business. With this, you can easily search for posts around specific topics and observe wordings, images, or a combination of both that has worked perfectly. If you are a brand that posts content more than once a year, to avoid repetition of poor content.
So, here you go. Ten lesser known Facebook tricks to help you boost your business. Now, you can make the most of Facebook to help your business grow, instead of just scrolling through and laughing at funny videos. That's fun too.