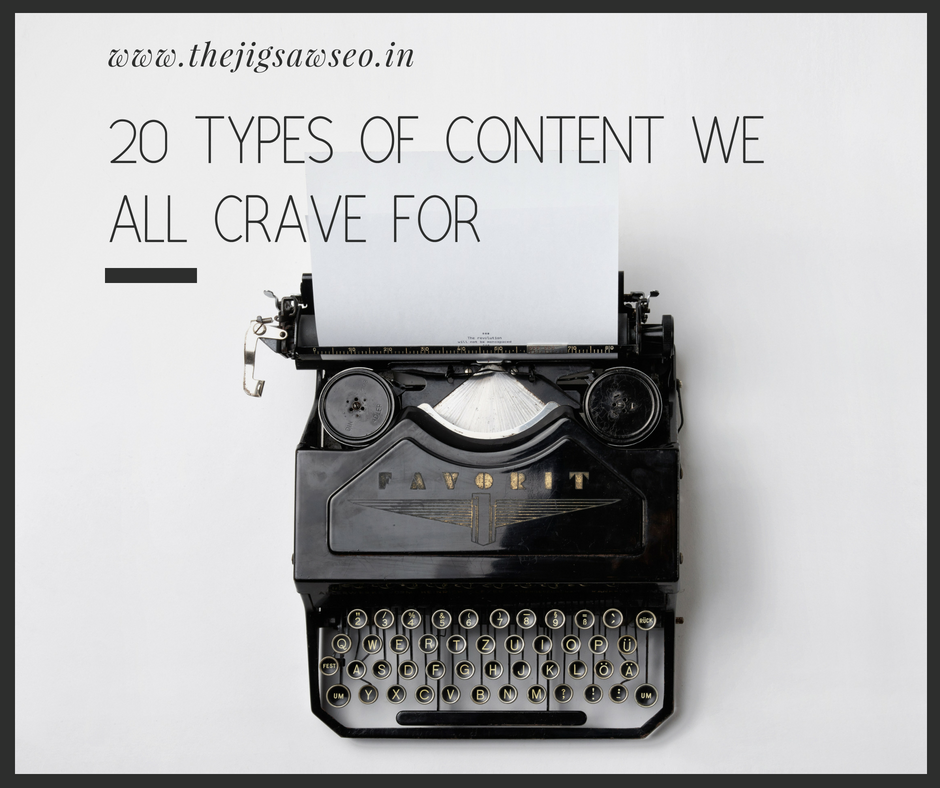 20 Types of Content We All Crave For
In the marketing industry trends play an important role, in fact what's the cutting edge, what's hot in the present market scene is the foundation of any marketing approach. As we already know that Content is King in today's scenario of publicity frenzy. Not only do we want good quality content but also long lasting, evergreen content. Data has always been the driving force for targeted marketing plans or efforts whether they are about how to be more progressive, how to be smart, more efficient or more productive ultimately. Data continues to drive our efforts in this direction. People today have difficulty in memorising things, especially something that serves them no purpose. So, it becomes highly necessary to make your content or data strong enough as to withstand the test of such times. We need content which can make people remember the product and visualize the effectiveness of that product. We need something which people relate to as it helps them associate the product or company with their daily lives. Here's looking at some of the most craved content types,
Video – people like to have a visual treat for themselves. Video consumption is definitely going to rule the roost for this very reason. It can be on Facebook, WhatsApp or Instagram. Companies are going to heavily invest in this idea as they'll be more visible and virtually accessible thus imprinting their brand image on the minds of the customer. This is the easiest and most convenient way of grabbing content.
Instagram stories – if you want to present your company creatively and innovatively, this one's for you. With seasonal stickers, rewind features, zoom in features, live polls, live stories , companies are most certainly going to get an upper hand. Instagram helps companies, particularly those who are involved in serving customers directly, attract customers on a one-on-one basis. So, it's time to grow your followers on Instagram.
Native advertising – more cost effective and drives more number of people. This assures people, indirectly, that you are considerate enough to develop content in regional language for their benefit, so the product must also be worth checking out. Regional advertising makes the whole idea of advertising more reliable and people tend to relate better with such advertising. It drives more engagement of people on social media on the whole. This year searches in regional languages will surpass the number of searches in English.
Inspiration – content should inspire people in a positive way with regards to the action they need to take in order to be beneficial for the company. It should encourage people to get out there and invoke the desired sentiment in the audience.
Attractive taglines or quotes – this involves real effort on part of the content creators as you need to sum the whole image of the brand or company in just a few words. It should be inspiring in such a way that it is agreed upon by each and every person associated with the company. It should be sincere along with being catchy.
Testimonials – people appreciate other viewers' feedback. They value their experiences and want to learn from them.
Storytelling – if you convey your idea with the help of a story, it is going to be remembered for a really long time. Relatable stories are a definite advantage over boring content. They are better retained by users for a long time.
Multimedia – giving your content that visual treat is the best way to get people to remember your content for long.
Effective and eye catching title – the first impression is the last impression, as they say, so the first thing that a viewer looks at is the title. A catchy title arouses curiosity and thus, intrigue on part of the viewers.
Shareable content – shareable content guarantees content to outreach its target audience. This leads to more viewers getting interested in you company or the product.
Valuable or helpful – such content definitely has more takers and people will come to this kind of content every time they are in a situation which requires assistance. This, making your content evergreen.
Trustworthy – people today do business with people they like and trust. So, it is highly necessary to present them a content which is trustworthy and reliable. This lets them believe in the product and ultimately drives satisfaction out of it.
Emotional connection –   It has been noticed that script is the most integral part of any marketing strategy. Without a strong, connecting script at its core, the campaign might lack lustre. Striking that chord with the audience is the most sought after aspect in the marketing industry. Business persons have begun to capitalise on this fact and here we have a slew of companies trying to establish that emotional connect with the viewers. Now companies invest in long haul ideas instead of short haul ideas. They want to make it a memorable experience for the customer not a momentary thing.
Educational – the content should be informative regarding essential features of a company or product. The right amount of data serves a lot of help to the clients.
FAQs – these reflect other users' concern regarding the product. It brings out an honest overall picture, be it pros or cons, of the product.
Live posts – a new fad in content marketing. Live posts allow people to be interactive and offer them a realistic marketing.
Podcasts – generally helpful for people on the go, like while driving, exercising etc. Audio content through podcasts is also amongst people's favourites as it's a passive form of media, you need to listen only which you can easily do while getting ahead with other forms of work, be it physical or something like that.
Blogs – written content is an audience magnet. People do read blogs, provided the content is phenomenal and arouses curiosity and interest in reading the content.
Images – the main reason behind the popularity of Instagram. Images provide a visual treat. People can imagine a whole story or the whole idea or gesture behind an image. This proves the saying right, 'a picture is worth a thousand words'.
Tutorials or DIYs – there came a flood of DIYs an year back. Everyone wanted to learn something, be it something new or improvising on the already existing scheme. This helped people a lot in learning things sitting at home. This is the reason YouTube got so popular. With everything and everyone out there sharing their knowledge and making this world a better place.
So go ahead educate, inform and inspire your audience with high quality content. When you add value and contribute to the lives of others, in turn, it enhances your life and your business.